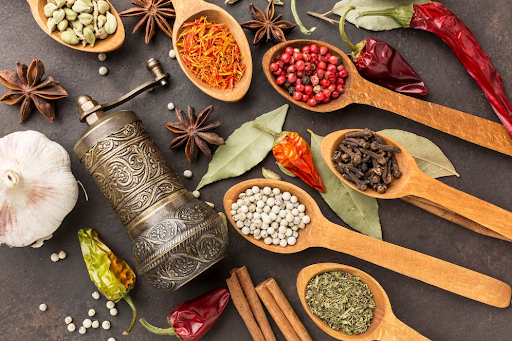 IrieVeda, nestled in the heart of Philadelphia, presents a unique opportunity to traverse the flavorful and aromatic world of organic spices. This guide is tailored specifically for individuals with special dietary needs searching for certified Organic Spices Online. Our primary focus is on our unique spice blends that are made with certified organic and fair trade spices and are Top 23 allergen-free, Certified FODMAP Friendly, and Certified Gluten-Free.
A New Era of Allergen-Free Spices Online
What Does "Allergen-Free" Mean?
You know how some kids in school can't eat peanuts because they're allergic to them? Allergies can make people sick if they eat or even touch certain foods. So, "allergen-free" means these foods are safe because they don't have those things that cause allergies.
What are Allergen-Free Spices?
Now, what if I told you that there are spices that everyone can enjoy, even those who have allergies? That's right! Allergen-free spices are like special magic powders. They make your food taste yummy without any of the things that can cause allergies.
No More Boring Food!
In the past, if you had an allergy, you might have had to eat bland and boring food. But now, thanks to allergen-free spices, you don't have to do that anymore! You can enjoy all the exciting flavors you love without worrying about allergies.
Our Organic Spices Online store sells these special spices. They make your meals taste better and are suitable for your health too. They're free from gluten, a thing found in some foods that some people can't eat. So, these spices are safe for lots of people to eat!
The Exciting World of Allergen-Free Spices
Just imagine you're about to eat your lunch, and instead of the usual plain food, it's full of flavor and safe for you to eat! That's what allergen-free spices can do. They open up a new world of tasty and safe foods.
So, join this new era of allergen-free spices. Happy eating!
Spice Up Your Life with Blended Spices
Imagine adding a pinch of spices to your meal that infuses a world of flavors and aligns with your dietary needs. That's the magic of our blended spices. These unique spice blends enhance the taste of your dishes while taking care of your health.
Here are some of our exceptional gluten-free spices:
Karma Shawarma:

An exotic blend of herbs and spices that gives a Middle Eastern flair to your dishes.

West Indies Curry:

A Caribbean-inspired curry blend, perfect for adding a kick to your stews and curries.

Happy Harvest:

A comforting spice blend that gives your autumn dishes a warmth that matches the season.

New World Chili:

This spice blend adds a smoky and sweet depth to your chili dishes, bringing a touch of the New World to your plate.

Jovial Jerk:

A Jamaican-inspired combination that will bring a tropical zest to your dishes.
Certified Gluten-Free and Certified FODMAP Friendly
Our spices not only provide a burst of flavor to your meals, but they also help manage special dietary needs. Selecting food products can be tricky for people with gluten intolerance or irritable bowel syndrome (IBS). That's why our blends are certified gluten-free and FODMAP-friendly. This makes them a safe and delicious option for people with these specific dietary needs.
Organic Spices Online: The Future of Healthy Cooking
What are Organic Spices?
Just like we have regular fruits and veggies, we also have regular spices. But have you ever heard of organic herbs? Organic spices are just like common spices, but they are grown very specially. They don't use any harmful stuff like chemicals or pesticides. This makes them much better for our health and the environment!
Why are Organic Spices Better?
Think of organic spices like the superheroes of the spice world. They fight off the bad guys (harmful chemicals) and save the day! When we use these superheroes in our cooking, our food becomes healthier and tastier.
How Can You Buy Organic Spices Online?
It's very easy! Just like you buy toys or books online, you can purchase organic spices too. Our Organic Spices Online store brings these superhero spices right to your home. And the best part? These spices are also safe for people who need to be careful about what they eat because of allergies or other health problems.
The Cool Future of Cooking with Organic Spices
When we use organic spices in our cooking, it's like we're becoming chefs of the future! In the future, everyone will want to eat food that's good for them and for the Earth. And organic spices help us do just that. They make our food yummy, and they're kind to our planet. So, why not start cooking the future way today?
Remember, every time you cook with organic spices, you make a healthy choice for yourself and the Earth. Happy cooking!
Get to Know Us Better: IrieVeda
Hello, friends! We are IrieVeda. We believe everyone should be able to enjoy tasty food together, no matter what kind of foods they can or can't eat. That's why we make special spice blends.
What Makes Our Spices Special?
Our spice blends are safe for just about everyone. They're free from the top 23 things that usually cause allergies. Plus, they're gluten-free (gluten is a thing some people can't eat because it makes them feel sick). They are also FODMAP friendly, meaning they're safe for people with tummy troubles with some foods.
But that's not all! Our spices are also vegan (that means no animal stuff in them), salt-free, and sugar-free. And we use only the best organic, fair-trade, and kosher spices.
Can We Help You?
Do you want a unique spice blend, a custom order, or even cooking classes? Well, we're here to make your wishes come true! We always love to help our friends make tasty food.
Our Promise to You and Our Planet
We care about your health and our planet. That's why we only use the best spices that are grown fairly and don't harm the environment. We make our blends by hand, in small amounts. This way, we can make sure they taste the best.
We're also super honest. We never hide any ingredients. We even put the list of what's inside right on the front of our jars. We hope our spices become a favorite in your kitchen. Our jars are made of good quality glass, and you can use them again and again.
So that's all about us, IrieVeda! We're here to help make your meals yummy, safe, and fun. If you have any questions or need anything, just let us know!