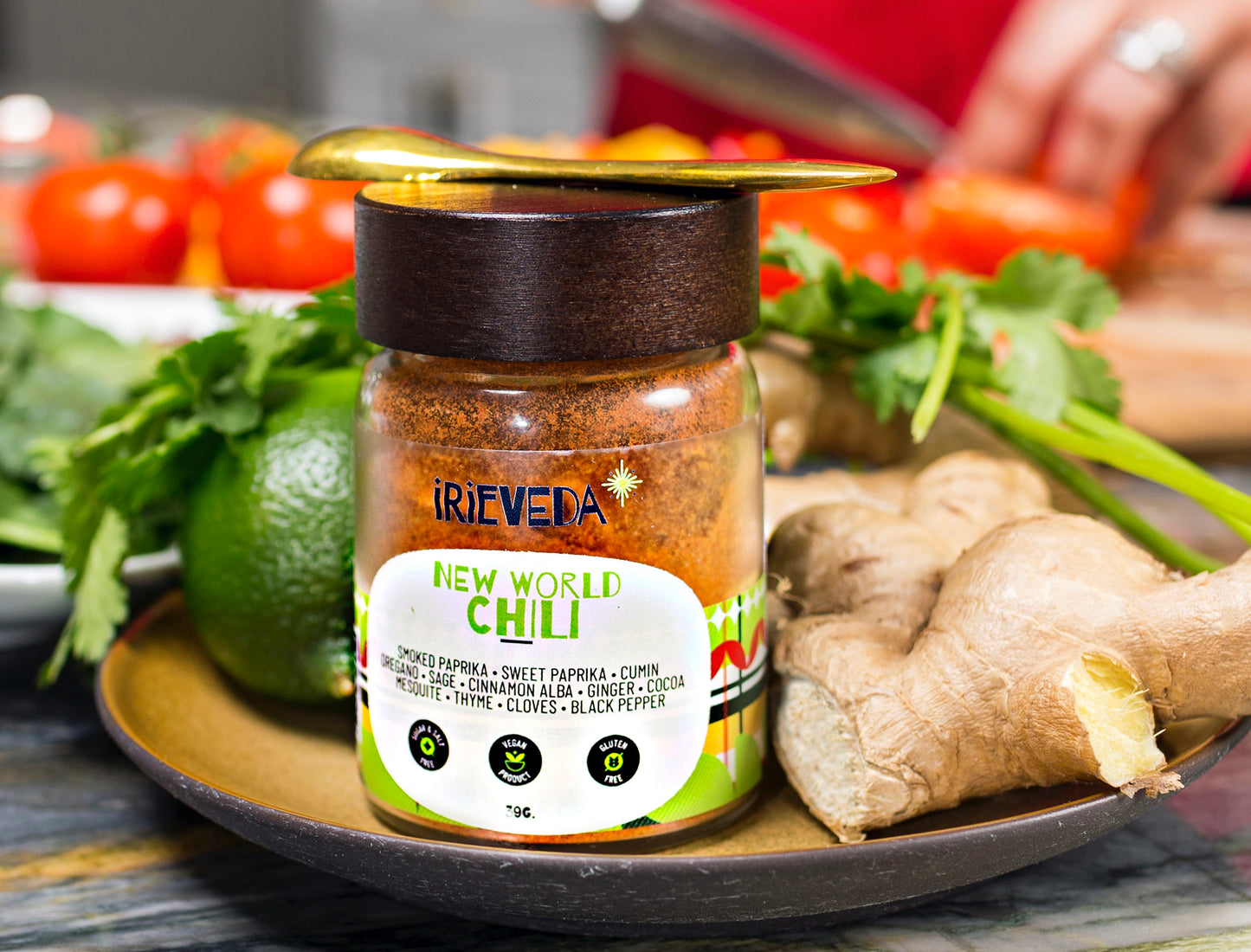 Summer is a time to gather with friends and family to make memories, while enjoying a flavorful meal. Our favorite part of summer is being able to enjoy a good backyard BBQ. As you enjoy the company of your loved ones and share in a meal, we want to keep everyone feeling the positive vibes of the season.
IrieVeda's New World Chili blend is the versatile spice blend that can satiate your hunger, while tantalizing all your senses.  As the perfect Chili blend for those colder months, the warming spices of this blend can easily be sprinkled as a meal topper (fancy deviled eggs), incorporated into salad dressings and transforms easily to make the perfect backyard BBQ rub. The best part, this dry rub eliminates the need for the overpowering BBQ sauces that steal the pure flavors of the meal!
Dry rubs are a blend of sugar, salt, spices, and herbs. IrieVeda's New World Chili is a diverse sattvic(ideal) spice blend that contains sweet and smoking paprika, roasted cumin, oregano, sage, cinnamon alba, ginger, cocoa, mesquite powder, thyme, cloves and black pepper. With the abundance of flavor in the blend, we will just need to add 2 ingredients to make this rub. We will use dark brown sugar to help with the caramelizing effect, and sea salt to taste. IrieVeda's New World Chili will be the source of all the delectable flavors, with the fresh spices and herbs and if you would like to add some heat, IrieVeda's organic ancho chili will do the trick.
Whether you are grilling meats, tempeh or vegetables, this blend is sure to delight your taste buds and keep you feeling at your best all meal long. It will infuse your meal with sweet, smoky and savory elements from the sweet/smoky paprika, roasted cumin, the highly beneficial ginger and sweet mesquite power. 
IrieVeda's Dry Rub Ingredients
1 tbsp Dark Brown Sugar (Adjust as needed)
2 tsp Sea Salt (Adjust as needed)
Instructions
Combine all ingredients and mix well.

Dry Rub can be used right away or stored up to 6 months in the fridge.
To Use- For Vegetables this blend can simple be sprinkled on top or combined with butter to make a paste that can be added to vegetables. For meats or tempeh, mix the desired amount of rub with a drizzle of olive oil to make a paste. Apply paste and grill until cooked.

To Store- This dry chili rub can be made and stored in a tightly sealed container or in a freezer bag in the fridge.
Please reach out to sales@irieveda.com with any questions regarding our product. Enlist the assistance of a dietitian/nutritionist if you require additional dietary adjustments.